Our new Air Connect Smart application, created to meet the connectivity needs of DRV systems, allows remote management of indoor units.
This innovation brings great comfort of use to both installers and users. Indeed, the Wifi Bus Control concept allows to pair all indoor units at once and to make communication more reliable by using the system's communication bus.
It is also possible to connect the application to a centralized controller in parallel.
Users will benefit from an unprecedented experience and optimal piloting  thanks to the customization tools of the AirConnectSmart interface.
The functions :
Implementation of a weekly programming with several setting time periods with the management of exceptions (holidays, weekends…).
Detects technical problems to facilitate its use.
The administrator account can share the application to sub-accounts without having to redo the configuration.
Possibility to add other connected objects (motion detector, room card, window contact…) and create interactions between them.
Possibility to connect up to 64 indoor units per Wifi module.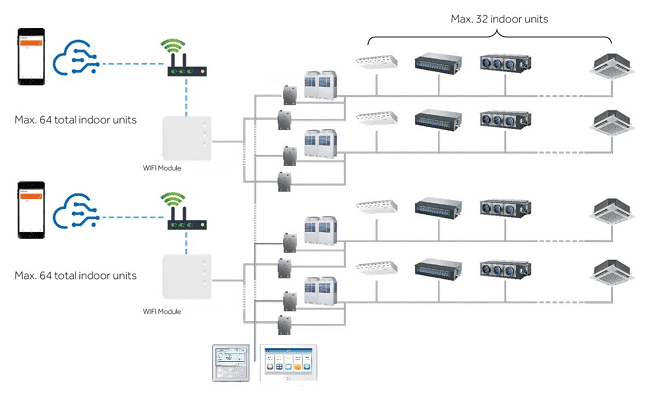 The advantages:
Creation of multiple scenarios between connected objects.
Remote monitoring and control of the units via the application: instruction, speed, priority management…
Very simple installation : one module for all indoor units thanks to the Airwell Wifi Bus Control.
An All On and All Off button for simple one-click control.
A powerful Cloud platform with an integrated help center.